CCG mining review
Kategorien:
News
|
Published by:
Maximilian Weber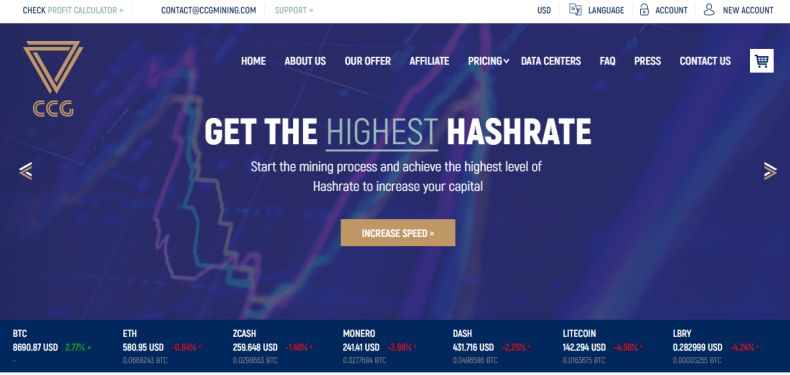 If you're a regular in cloud mining, you've probably come across the branding of this cryptocurrency company, "CCG Mining," several times.
CCG Mining was established in 2016 with the primary aim of establishing Europe's highest computational hashing capacity.
With the tagline 'We make things simple for you,' they aim to meet the needs of over 850 company customers.
Post Summary
As you're going to read this CCG mining review, you can keep in mind the following sub-oriented headings:
Who is CCG Mining?
How to initiate cloud mining contracts on CCG Mining?
CCG Mining Products and Services
Advantages and Disadvantages of Using CCG Mining
CCG Mining: Legit or Scam?
Conclusion
Who is CCG Mining?
CCG Mining is a crypto mining firm that was established in 2016 at the height of the digital currency market.
It has all the characteristics of a multinational business that has focused on using blockchain technologies to provide holistic solutions.
This set has 5 branches located in Europe: in Belgium, Poland Great Britain, Russia, and Austria, all in different locations, as well as a research institute in Latvia.
Michal Kwiecinski is the CEO/Chairman and President of the company, with over 45,000 private clients, 850 industry clients, and nearly 1,000 corporate ones.
Its aim is to serve and do whatever it takes to make the consumer the happiest with total fulfillment in mind.
Their ultimate goal is to create the most powerful European computing resource. NVIDIA, AMD, Intel, ATI, BITMAIN, and Canaan hardware are used by the firm. They attempt to make it simple for you, and they believe that if they can do so, their users will find it easier to use.
With a highly trained and qualified crew, a proficient squad at dealing with the ever-changing crypto industry, CCG Mining navigates the terrain.
To satisfy this, they are employing the latest operating practices and technology consumers' preferences, they have to get in on the ground and learn more about their daily habits.
All of the CCG datacenters are located in Central Europe.
The use of many data centers to mine different cryptocurrencies is a common practice in the cloud mining industry.
This cloud mining facility is particularly energy-efficient due to the amount of computing power being used to fuel the usage of which is used, allowing it to cut energy costs.
Since the data centers are optimally situated and have a steady temperature, these facilities support cloud mining facilities well.
CCG Mining Products and Services
CCG Mining developed a revolutionary tool for business-to-business (B2B) and business-to-consumer (B2C) customers.
This is to make things as simple as possible for everyone to utilize Blockchain technologies to fulfill their unique needs.
For your better understanding, you have divided this part into 3 sub-parts. They goes:
Cloud Mining Contracts
Mining rig
Affiliate Program
Each of the sub-part shall be vividly described later.
The service utilizes three primary algorithms for computing the amount of extracted blockchain technology-based currency: SHA-256, ETHASH, and EQUIHASH.
CCG Mining offers the following cryptocurrencies services:
Bitcoin (BTC)
Bitcoin Cash (BCH)
Ethereum (ETH)
Dash
Litecoin (LTC)
Monero
Zcash
CCG Mining has diverse policies according to consumer demand including Custom, 1-year contract, and 2-year contract plans for these cryptocurrencies with BTC and BCH having other Unlimited contract plans.
CCG Mining 1 Year Cloud Mining Contracts Plans for BTC, ETH, BCH, and ZCASH
Below are the 1-year contract custom plans for cloud mining :
BTC (Bitcoin): Beginning at USD 99.00 for TH/s
ETH (Ethereum): Beginning at USD 13.50 for TH/s
ZCash: Beginning at USD 1.38 for TH/s
BCH (Bitcoin Cash): Beginning at USD 139.00 for TH/s
Below are the 2-year contract custom plans for cloud mining :
LTC: Beginning at USD 11.40 for TH/s
Monero: Beginning at USD 0.75 for TH/s
ZCash: Beginning at USD 1.69 for TH/s
Below are the unlimited year contract custom plans for cloud mining :
BTC (Bitcoin) : Beginning at $119.00 for TH/s
BCH (Bitcoin Cash): Beginning at $236.00 for TH/s
How to initiate cloud mining contracts on CCG Mining?
Follow the step-by-step instruction for placing a 1-year contract on CCG Mining. Almost the same goes for any other cloud mining contracts, you just need to select the correct cloud mining contracts package.
Choosing Your Plan
Go to the CCG website
Click on your preferred plan (here, suppose, 1-year cloud mining contract for BTC (bitcoin).
Hit the Order Now and it will redirect you to another page.
Here you shall review your cloud mining order.
Review & Checkout
Reviewing an order means formally confirming that you actually want to do business with CCG Mining and spend money on the mining contract you have selected. So, be careful.
Confirm whether it is the price you are going to spend.
Do not forget to remove all the other orders from your cart.
Click on "Check Out" and it will redirect you to a page for registration and choosing the payment method.
Payment
CCG Mining supports:
Payeer
Bitcoin
Some other digital currencies
If you're already a registered consumer, just input your credential and make the payment.
The contract will be activated within 24 to 48 hours following the payment.
Mining Rigs
Mining Rigs are designed for individuals that possess the technical skills required to self-configure and operate mining rigs and want to step into the world of Blockchain technology.
Mining Rigs are specialized computer devices that are used to mine Bitcoins. Rigs may be dedicated miners (purchased, designed, and run exclusively for mining) or they can be used for other purposes such as gaming and partially for mining.
CCG Mining Rigs are often suggested for data center owners and others with the technological expertise needed to calculate Blockchain Algorithms.
They have 3 options available for CCG Mining rigs:
Basic
Advanced
Fury
Every item has its own price and specs, which can be obtained by clicking on the 'Order Now' button.
When you place an order, you can go through the same procedure as a 1-year contract by checking the order and signing before making payment using your chosen payment method.
This way, you own a mining rig that you have complete power over and can customize to meet your specific needs.
Affiliate Program
Unlike a traditional mining company, where the affiliate incentive is proportional to your rank, CCG Mining provides an Affiliate Program in which you can earn 6% of any cloud mining contract bought on its website anytime anyone uses your referral connection.
To enroll in the Affiliate Program, you must first register on their website.
Affiliate Program payments support BTC (Bitcoin) or T/T. (Telegraphic Transfer).
Pros and Cons
Following careful analysis of the findings, here are the benefits and drawbacks of investing in CCG cloud mining plans:
Pros
Plans can be purchased using both fiat money and crypto.
When the economy is on a roll, a reinvestment service is open for you.
Mining rigs are quite strong
Excellent reward scheme
Excellent support structure
SSL Protection and DDOS Defense
Cons
Hash electricity rates are very high.
Payouts are made weekly rather than regular. Due to high upfront expenses and operating fees
1-year contract is unprofitable.
FAQ
Is CCG Mining legit?
Is CCG a reputable business to invest in? In terms of protection and payout consistency, the answer is yes. However, based on our ROI research, the firm has a lot of work ahead of it. As compared to other cloud mining sites, the yields are uncompetitive. Hash fuel prices must be reduced, as must original plan costs.
Is GPU mining still profitable?
Maybe for a brief period during a bull market, such schemes will become lucrative, but my sense is that the crowd will swarm in again and hash rates will spike, eroding any profit. For bitcoin, the cat is now out of the bag.
Conclusion
We have come to an end of this CCG mining review. We tried to illustrate the whole picture of CCG Mining in front of you. Please share this post, comment with your feedback, and follow us on social media.
Happy Mining!!!